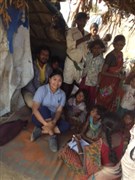 Anayeli Cardenas

Expires
Friday, 28 February 2014
Light up a life - Alleviate energy poverty
Reducing energy poverty in India

Many people do not have access to modern energy services. This is known as energy poverty. Lack of access to electricity mainly affects the disadvantaged and poorer segments of society. In India, people living in slums light their homes using kerosene lamps, lamps which emit toxic gases that are harmful to one's health. A sustainable and safer alternative is solar. Pollinate Energy is an Australian organisation which works to alleviate energy poverty in India. Among other things, Pollinate Energy is helping people to change their kerosene lamps to small scale solar home lighting systems.

Pollinate Energy has the support of sponsors, volunteers, professional fellows, interns, Australian engineers and managers, and local staff. We are working in developing ideas, business plans, impact assessments and evaluation, organisation and structure, long term business strategies, managing, upskilling, media and marketing planning, data collection, mapping, distribution process, developing prototypes, cultural understandings, and in general training and supporting local lower-middle class 'pollinators' start their own sustainable social business.
Because Pollinate Energy is a not-for-profit social business, we require fundraising to support the social enterprise incubator activities.

Please contribute to our cause. Donate using your credit card via the platform GoFundraise, it is easy and safe. All your donations will go directly to Pollinate Energy and it will directly improve the lives of people living in slums.

Who am I?
My name is Anayeli Cardenas, I am from Mexico City. I hold a Bachelor's degree in International Relations and I just completed my Master´s Degree in Public Policy and Management at the University of Melbourne in Australia. I'm currently volunteering for Pollinate Energy.

I'm passionate about energy related issues and I'm worried about inequality. I would like to contribute to create a better future for people, like those affected by energy poverty.

We need your help to keep this project running. With your donations, you can make a difference for communities within economically impoverished segments of Indian society.

The funds will be used as start-up capital to purchase the pollinator's solar powered systems. The pollinator is a member of the community that distributes the solar lamps and that speaks the local language and in some cases, English. Pollinate Energy trains and supports members of the local community and helps them become micro-entrepreneurs by providing them with training and locally made, small scale solar home lighting systems.

I'm currently in Bengalore, India, and because I'm experiencing this first hand, I can assure you that this project has a purely social agenda, so all your donations will certainly benefit the most impoverished people.

Help us to provide safe lighting for disadvantaged communities and Light up a life!

Pollinate Energy Ltd
On July 31st 2012 India experienced the world's largest blackout. 600 million people were plunged into darkness. But what wasn't reported is that every night in India there are 292 million people still in the dark.

Why is it that mobile phones are no longer a luxury in India, but electricity is?

Pollinate Energy is a non-for-profit startup co-founded by 5 Australians, designed to develop the next generation of leaders and social entrepreneurs while bringing renewable energy to people living in poverty. We work on India with a focus on urban slums – homeless families who live in poverty, in tents. There are 20,000 of these people in our base of Bangalore alone.

These families don't have electricity – so their kids can't study at night, and they can't work, store food, or access information.

What these families do have however, en masse, is drive and determination.

Pollinate Energy taps into this entrepreneurial spirit, using locally manufactured solar systems to provide light to families living in poverty. These renewable systems are designed to cost no more than what these families spend on energy at the moment. We train local entrepreneurs – teaching them how to sell, finance, install and maintain systems.

What these local entrepreneurs need is help to set up these businesses. They need capital, training and most importantly, moral support.

Through a student Fellowship program, Pollinate Energy will help to provide this support, while training the next generation of social entrepreneurs
FUNDOMETER
Target
$2,100
Raised So Far
$905
Biggest Supporters:
Anayeli Cardenas: $400.00
Anonymous: $130.00