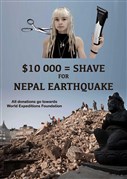 Ellie Locke

Expires
Tuesday, 30 June 2015
Shaving for Nepal

Hi there! My name is Ellie Locke.
After the recent disaster in Nepal I've decided to raise money for the reconstruction of destroyed villages and cities. If I raise over $10 000 I will shave my 5 year-old dreadlocks off!
The awful consequences of this 7.8 magnitude earthquake are devastating. As of May 4, the death toll is well above 7000 and will only rise. Over 14 000 people were injured. 300 000 houses were destroyed. Over 5000 families are homeless after the floods and landslides following the earthquake. As the roads are blocked, the extent of damage past Kathmandu Valley is still unknown. Monsoon season is coming. This poses a huge threat to the health of those who are now homeless, or temporarily sheltering in tents.
Communication systems and industrial supply chains are extremely weak. Up to 10 hydro-electric plants generating about 90 MW of electricity have been temporarily shut down. In the coming years, Nepal will struggle to rebuild housing, infrastructure and a few of the World Heritage-listed temples that were destroyed.
World Expeditions Foundation is a small-scale organisation, which works on rebuilding schools, hospitals and community centres. There are no admin fees, so you can be guaranteed that 100% of your money will be used with utmost care.
Whilst any donation is really appreciated, please think about how much your money is worth to those suffering for reasons beyond their control.
As the Nepali Finance Minister pleaded,
"I am confident that you will help us move forward so that the promise of a better life is still within reach for nearly 30 million Nepalis."

World Expeditions Foundation Ltd (Nepal Earthquake Appeal)

28/04/15
The catastrophic earthquake that struck Nepal on 25 April, and the subsequent earthquake on 12 May, resulted in a massive loss of life and destroyed much property. 

In the initial weeks following the earthquakes, the funds raised through this appeal, will be directed to purchasing and delivering food packages, tarpaulins, corrugated galvanised sheets and blankets to mountain communities in need. Some of these communities are home to World Expeditions porters. As Nepal moves into the reconstruction phase, funds will be directed to the efforts to re-establish schools in the mountains. 

World Expeditions started the appeal with a $50,000 donation. 

Please donate to the WEF Nepal Earthquake Appeal. Click the 'Donate' button above to help those affected by this catastrophe.

World Expeditions Foundation does not levy any administration fee. Donations are tax deductible for Australian citizens.

22/01/2016: TOTAL FUNDS RAISED = AUD$264,469.80

Click 'Here" to learn how funds have been deployed to assist communities in need.
FUNDOMETER
Target
$10,000
Raised So Far
$12,002
Biggest Supporters:
Tony and Margo Wood: $1,060.00
alison wood: $530.00