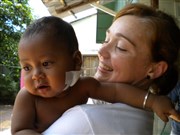 Jenny Christie

Expires
Wednesday, 13 January 2016
FEED THE BABIES PROJECT
13/6/2015 we are asking for donations of just $10 per person the reach an end of June 2015 target of $1000 for the Feed the Babies Project. Please donate now to help us reach this monthly target. Many thanks!
15/1/2014 - Well we did reach our target of $12,000 for 2013 through a mixture of offline donations and GoFundraise Donations. Fantastic!! We are wishing to raise this amount again for 2014.
17/6/2012 - I thought I would give you all an update on our Feed the Babies Project to date. We have increased our target to $12,000 as we now have 48 babies on the program that the Feed the Babies Project is fundraising for. These numbers are growing as new babies are born and present themselves at the clinic at New Hope Cambodia. We have also received quite a lot of funds from off line donations and our total donations (including GoFundraise) are a fantastic $6,968!! Please dig deep and make a tax deductible donation to the project. Many thanks. Jenny and the team. :))))
Hi Everyone. Please read my story about New Hope Cambodia below. I visited New Hope in October last year with my sister, Kath, and we spent some memorable days volunteering at the centre.
We are currently focusing on the Medical Clinic at New Hope, which is co-ordinated by Jody Bonar. When we visited in October 2012, it was clear that to help the children focus on the education that New Hope is giving them as they grow older, there is also a great need to provide nutrition at an early age. Jody has been providing milk formula to the mothers in the village for the infant children. Donations to this area are needing to be increased to accommodate the rising number of malnourished infants visiting the clinic.
To help ensure that milk formula is always available to the babies in the village, we have proposed to fund the purchase of milk formula for at least a 12 month period. This is huge task and we are asking for your assistance in helping us raise the funds needed to sustain this project over the long term. We will be organising some fundraising events in the near future so also look out for these. For Australian donors, donations are tax deductible.
THESE BABIES DON'T HAVE ENOUGH MILK AND THEY ARE MALNOURISHED. WE CAN CHANGE THIS. FOR JUST $26.30 PER MONTH YOU CAN FEED A BABY FOR A YEAR. RIGHT NOW THERE ARE 36 BABIES IN NEED- WE CAN DO THIS! ANY DONATION WILL HELP.
ALL DONATIONS GO DIRECT TO NEW HOPE CAMBODIA TO PURCHASE MILK FORMULA FOR THE BABIES TO SUPPLEMENT THEIR MOTHERS MILK.
New Hope Cambodia provides assistance to the villagers of Mondul 3, Siem Reap, Cambodia. New Hope assists by providing free schooling, a medical clinic, and an outreach centre, among other initiatives. New Hope's aim is to "restore hope, dignity and promise to the once proud and prosperous people". Their website can be viewed at www.newhopecambodia.com. Their founder is a local Khmer Sot Suo (Kemsour).

NEW HOPE CAMBODIA
Receipts for your donations are issued by the GoFundraise system.  Australian donors will also be emailed a Tax deductible receipt (issued by Rotary Australia WorldCommunity Service Ltd - RAWCS). This tax receipt will be emailed within 6 weeks of the end of the month of donation.  For any queries on these receipts, please contact           accounts@newhopeustralia.com.au
If you propose to fundraise for a specific project, please advise us on patf@newhopeaustrali.com.au Otherwise we use your funds for the most urgent of purposes in New Hope.
Our Mission….. to restore hope, dignity and promise to these once proud and prosperous peoples.  Mondul 3 Village, Siem Reap….. one of the poorest slum areas in Cambodia. A broken community of army families, karaoke/sex workers and displaced men women and children.   
New Hope Cambodia is a grass roots, hands on and non government organization. "Whilst 'free education for all' is our priority, an important step in breaking the cycle of poverty, we cannot ignore the chronic malnutrition; ill health and appalling living conditions our students and families face every day".
Today, New Hope, with the assistance of sponsors and volunteers, also provides free  medical treatment for up to one hundred residents per day for illnesses such as chronic malnutrition, HIV, hepatitis, typhoid,  tuberculosis and dengue fever and supports over 300 families on a food program 
             -  Food supplies and support to 320families 
             - Baby formula for 100 malnourished babies.
             - Education for 1000 students 
             - Regular classes are held for Mothers on Family Planning, Child care, and Food Hygiene; and delivers awareness of gambling, drug and Child trafficking issues.
Please help us to continue to give these impoverished families a future.   For further info please visit www.newhopecambodia.com
FUNDOMETER
Target
$5,000
Raised So Far
$4,483
Biggest Supporters:
ECW Pty Ltd: $1,000.00
Peter Wigley: $1,000.00