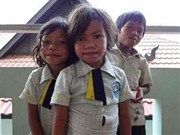 Nadia Rice

Expires
Saturday, 3 May 2014
New Hope Cambodia – Village Sanitation Project
Friends and Family....
As you are all aware, I volunteered at New Hope Cambodia for 4 months at the beginning of this year. I can honestly say this organisation is amazing with some of the most incredible children I have ever met. They however, desperately need our help to continue their amazing work to help restore hope and dignity to the people of this magical country.
My aim was to raise $10,000…something I am proud to say I have reached, purely through the generosity of people I know. So I thought, why stop there! I am hoping to raise $20,000 to install environmentally friendly toilets in the Mondul 3 village that surrounds the school. This is the village that most of the children that attend New Hope live in.
This small village has no basic sanitation. People are currently going to the toilet where ever they can find a spot and in turn this is contaminating their water supply and making them ill. Not only is this unpleasant and horrific for people to live in, families are being raised amongst it and our children are walking through it to get to school.
The idea with the toilets is that they are sustainable, environmentally friendly and not costly. The maintenance will be minimal and the impact on health should be huge and I am going back in February to help them with this project.
Please forward this link on to anyone you think would be interested in contributing.
Any small amount helps. I know you all donate to various causes, but this one is close to my heart and I am hoping you can pitch in to help me reach my goal. I will be organising some small events in the upcoming months.
Many thanks for your help
Love
Nadia xxxx

NEW HOPE CAMBODIA
Receipts for your donations are issued by the GoFundraise system.  Australian donors will also be emailed a Tax deductible receipt (issued by Rotary Australia WorldCommunity Service Ltd - RAWCS). This tax receipt will be emailed within 6 weeks of the end of the month of donation.  For any queries on these receipts, please contact           accounts@newhopeustralia.com.au
If you propose to fundraise for a specific project, please advise us on patf@newhopeaustrali.com.au Otherwise we use your funds for the most urgent of purposes in New Hope.
Our Mission….. to restore hope, dignity and promise to these once proud and prosperous peoples.  Mondul 3 Village, Siem Reap….. one of the poorest slum areas in Cambodia. A broken community of army families, karaoke/sex workers and displaced men women and children.   
New Hope Cambodia is a grass roots, hands on and non government organization. "Whilst 'free education for all' is our priority, an important step in breaking the cycle of poverty, we cannot ignore the chronic malnutrition; ill health and appalling living conditions our students and families face every day".
Today, New Hope, with the assistance of sponsors and volunteers, also provides free  medical treatment for up to one hundred residents per day for illnesses such as chronic malnutrition, HIV, hepatitis, typhoid,  tuberculosis and dengue fever and supports over 300 families on a food program 
             -  Food supplies and support to 320families 
             - Baby formula for 100 malnourished babies.
             - Education for 1000 students 
             - Regular classes are held for Mothers on Family Planning, Child care, and Food Hygiene; and delivers awareness of gambling, drug and Child trafficking issues.
Please help us to continue to give these impoverished families a future.   For further info please visit www.newhopecambodia.com
FUNDOMETER
Target
$25,000
Raised So Far
$25,827
Biggest Supporters:
Nadia Rice: $2,091.05
Nadia Rice: $1,825.20