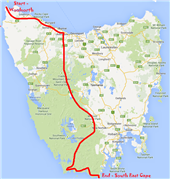 Shane Hutton

Expires
Wednesday, 31 December 2014
The Tassie Traverse - support Shane's epic Tassie Run
In March 2014, Shane will be running the Tassie Traverse, from the northern-most point of mainland Tassie, to the southern-most point. Richelle will be support crew, and generally keeping the event running smoothly.

There will be mud, maybe snow, there will be overgrown, unmarked trails, there will be nights camped out in the bush alone, and there will be a aeroplane food drop....

All to raise money and awareness for Shake It Up!
Click on "Donate Now" to make your contribution!

Shake It Up Australia Foundation
Shake It Up Australia has a clear mission: To find the cure for Parkinson's
There are an estimated 70,000 Australians living with Parkinson's with another 32 diagnosed every day. 20% of those diagnosed are under 50 years old. With your help we can change this!

Shake It Up has partnered with the Michael J. Fox Foundation for Parkinson's Research to fund world's best research in Australia targeted at finding better treatments and ultimately a cure.
100% OF YOUR DONATION GOES DIRECTLY TO RESEARCH.  THAT'S RIGHT 100%!  Our founding directors cover all general expenses of the Foundation ensuring every cent of your donation makes a real difference in the quest to find a cure for Parkinson's.
 
About Shake It Up
Shake It Up Australia Foundation is a not-for-profit organisation established in 2011 to promote and fund Parkinson's disease research in Australia.

The Foundation was established by Clyde Campbell, a father of three and business owner who was diagnosed with Parkinson's disease in 2009 at the age of 44.

Clyde set out to find out as much as he could about the disease and determine what he could do in a practical sense to assist. His search led him to the Michael J Fox Foundation for Parkinson's Research (MJFF) in the United States and the remarkable work they do to fund medical research targeted at finding better treatments on the path to a cure for Parkinson's disease.

The approach MJFF take to assessing, funding and project managing world's best research all over the globe eliminates redundancy, ensures efficiency and unites the global community in the quest to find a cure.

Clyde realised that funding Parkinson's research was the best thing that he could do to help himself, his family and the 100,000 other Australians living with the disease. With that clear in his mind Clyde founded Shake It Up Australia Foundation (SIUAF) to give other Australians the opportunity to join his quest.

How you can join the fight to cure Parkinson's
The research we are funding comes at a cost and we need people committed to making a world without Parkinson's disease a reality to join our fight.
Some ways you can contribute include:
•    Donate to research now
•    Run an event for Shake It Up
•    Participate in an event and encourage others to sponsor you
•    Become a project partner
•    Become a corporate partner
•    Become an ambassador
•    Volunteer
•    Subscribe to our newsletter
•    Register for clinical trials
To learn more about how you can be a part of the answer please go to our website and get involved.
Please make sure you are LOGGED IN. You can only join a Team Leader page if you are logged in and have an Individual page created. If you do, it will be displayed here once you've logged in. If you don't, please return to the 'home page' and follow instructions on how to create your Individual page.
FUNDOMETER
Target
$37,000
Raised So Far
$18,503
Target
$37,000
Raised So Far
$18,503
Team Members
My Total: $18,503
Team Total: $18,502.68
Biggest Supporters:
Richelle Olsen: $3,948.00
Richelle Olsen: $1,160.00