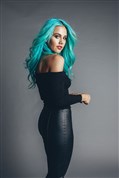 Dara Hayes

Expires
Saturday, 9 April 2016
Tigerlily Against Online Bullying
To whom it may concern,
In light of recent events, I have decided to set up a fundraising account for Headspace in order to support victims of bullying - both online and offline, all over Australia.
I've spoken out many times against misogyny, sexism and online bullying, and feel so strongly that as young people we should empower and support one another, rather than tearing each other down.
Never, ever be ashamed of who you are - you are special and unique and no one else should ever determine your happiness or worth.
Stand up for yourself and what you believe in, because you are amazing and no one can change that.
Love & Light, 
Dara Hayes (Tigerlily) xxx

headspace National Youth Mental Health Foundation
headspace National Youth Mental Health Foundation provides mental health and wellbeing support, information and services to young people aged between 12 and 25 and their families across Australia through our expanding network of 69 centres and online via eheadspace.

headspace services include: general health, mental health services, education and vocational services as well as alcohol and drug services.

For more information or to find your nearest headspace centre, visit headspace.org.au
FUNDOMETER
Target
$10,000
Raised So Far
$9,329
Biggest Supporters:
Dara Hayes: $5,000.00
Lucky Ent.: $1,000.00