What is Workplace Giving?
Workplace Giving is a simple and effective way to donate to charities directly from your pay. The Good2Give Workplace Giving Platform is an easy and secure way to give a regular or one-time donation directly to charities that matter to you.
Help
Adam Secombe

reach their target

Donations big & small make a difference
Donate Now
Donate now using your credit card or PayPal account using our secure payment gateway and recieve a tax deductible receipt emailed directly to you
Give via Workplace Giving
powered by Good2Give
Donate directly from your salary and avoid needing to claim at tax time. Workplace giving is powered by Good2Give. Your employer must be registered with Good2Give to use Workplace Giving.
link copied to clipboard
saving changes, please wait..
page successfully updated
error saving changes
file size exceeds 512kb.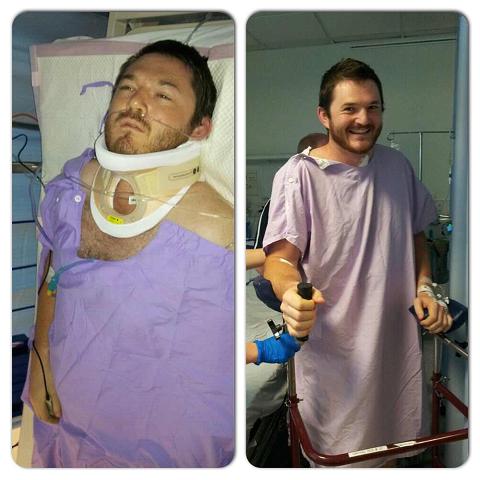 $5,169

of

AUD

$10,000 team's target.
Raised by 0 people in days for RBWH Foundation
Biggest Supporters
AUD $300.00
Boyd and Jane Davison
Raising funds for RBWH Orthopaedic Trauma and Surgery Unit
Story
My name is Adam and I have just spent a little over a week at the Royal Brisbane and Women's Hospital (RBWH). I decided that I would like to share my story on how I got here and what I experienced.
On Thursday the 14th March I set off early with my climbing partner to tackle Mt Tibrogargen. My partner completed the first pitch without any problems, but unfortunately before I could even get my climbing shoes on to follow her up I experienced a sudden black out and as a result fell 10 metres. I had come off my safety line to retrieve water as it was hot and also my climbing shoes. I felt safe on the large ledge (as long as my brain was functioning that is). I don't have a history of black outs and I had no real warning it was coming so in many ways it is just a little bit of bad luck on my behalf that I had to experience my first one on the side of a cliff for the 30 seconds I was off safety.
My climbing partner called 000 and I was attended by the QLD paramedics, SES, other climbers and the amazing AGL rescue chopper. They stabilised me and kept me going. Everyone involved was awesome - these guys don't ask for a thank you, they just do their job and they do it with a sense of humour. I was flown to the RBWH and underwent a range of tests - CT scans, MRI's, ECG's, blood tests etc. Surprisingly my brain is intact (the wonders of wearing a climbing helmet), my pelvis is intact (quite likely from wearing a tight climbing harness which was padded) and I have no damage to any major organs.
I am pretty lucky all things considered but the resulting injuries were:
1. Burst fractures to C5 vertebrae (a severely broken neck that is close to my spinal cord and hence critical)
2. Transverse process fractures to L1 to L4 (this means lots of little fractures in the bones in my back, but not near my spinal cord so a lot of pain but by no means critical)
3. A fracture in my right hand (minor)
4. Nerve damage resulting from the burst fracture which was causing severe neuropathic pain to be experienced in my hands/wrists.
5. Lots and lots of heavy cuts and bruising.
I was moved to the care of the Orthopaedic Trauma unit at RBWH and thanks to some very amazing surgeons (Steven Yang and Kate Campbell) I have had my C5 vertebrae ripped out and replaced with a titanium cage and plate that now holds my head high. Although there was a risk I could've end up a quadriplegic, the operation was a complete success. Thank you a million times!
I can't say how amazing the whole team at the RBWH was. From the surgeons, doctors, nurses, physio's, wardies, tea ladies even to the volunteers that come in on a regular basis - they are a very hard working team and I owe them a lot for a very quick recovery. As it stands now, it's only 2 weeks after the accident and I am walking quite well and will almost definitely recover fully.
To the entire team at the RBWH - thank you very very very much!
So here's the bit where I could use your help!
I recall 2 separate instances during my 10 days in the Orthopaedic Trauma ward when the most basic equipment (manual blood pressure cuff) wasn't working and the nurse had to waste time going to find one that did.
So my current goal is to raise $10,000 to fund new equipment for the ward. The more money I can raise the more equipment I can help purchase to support the Orthopaedic Trauma unit at RBWH.
These are the guys that will glue you back together if you have a car accident, a sports injury, any spinal related or bone related injuries.
They are an amazing team of people and definitely could use your help!
If you can only donate a small amount, that is still very much appreciated! It does however cost nothing to like and share this on Facebook, so if you can't afford to donate any cash that is fine by me, but please like/share it and the more people who see it the better.
Thanks for reading and I hope it wasn't too boring for you!
read more
Raising funds for RBWH Orthopaedic Trauma and Surgery Unit
AUD $5,169 of AUD $10,000 target

All
Donations

0
Activity

0


There is nothing to show from any feeds at the moment.

There are no current donations or activities for this user.
The fitness feed has been disabled by the page owner.

RBWH Foundation
RBWH Foundation is the charity arm of Royal Brisbane and Women´s Hospital (RBWH) – Queensland's largest and busiest hospital.
RBWH cares for patients (men, women and newborns) from not only Brisbane but all over the State, Northern New South Wales, Northern Territory and neighbouring islands in the South West Pacific. It provides all general and maternity health services and is also home to Queensland's largest Cancer Care Service and the State's largest and busiest Neonatal Intensive Care Nursery.
The hospital is very active in research and boasts Australia's only Burns, Trauma & Critical Care Research Centre and the internationally-recognised Perinatal Research Centre. The Foundation´s key purpose is to raise money for the hospital in order to provide better treatment methods and improve patient outcomes. Money raised is primarily used to the fund world-class clinical research conducted on campus, purchase vital pieces of equipment and to provide specialist medical training.
read more
Created by
Adam Secombe
for RBWH Foundation
Adam Secombe

's

Total
Team Totals

AUD $5,169 of AUD$10,000 target
0 people in days
AUD $5,169 of AUD$10,000 target
0 people in days
Please make sure you are LOGGED IN. You can only join a Team Leader page if you are logged in and have an Individual page created. If you do, it will be displayed here once you've logged in. If you don't, please return to the 'home page' and follow instructions on how to create your Individual page.