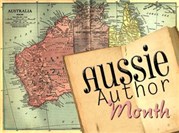 Nyssa Harkness

Expires
Saturday, 5 May 2012
Aussie Author Month
The current donation page for 2013 is at this link! Thanks for looking!
Aussie Author Month is about celebrating the uniqueness and great quality that our nation contributes to literature by the promotion of authors and books we love from Australia (or, as with various celebrities and pavlova, those we claim as our own anyway even if they live in another country nearby).
Twitter: #ausbooks

Indigenous Literacy Foundation
"The Indigenous Literacy Foundation is helping to open the door to our young people's dreams" - Sally Morgan, Ambassador. 
Help us address literacy and improve the lives and opportunities of young Indigenous children growing up in the remotest parts of Australia. The Indigenous Literacy Foundation advocates and raises funds to deliver culturally appropriate books to over 200 remote communities across Australia. The foundation is working in a small number of communities trialling an early literacy project aimed at babies and preschool children. It also translates books into local language and works hand in hand with remote communities on literacy projects. ILF was established in 2006 by educator and bookseller Suzy Wilson and is an initiative of the Australian Book Industry.
"...for some of the parents this is the first time they have sat down and read a story with their child, so it is great that we have these wonderful books available for them" - Port Augusta Community Group.
Please make sure you are LOGGED IN. You can only join a Team Leader page if you are logged in and have an Individual page created. If you do, it will be displayed here once you've logged in. If you don't, please return to the 'home page' and follow instructions on how to create your Individual page.
FUNDOMETER
Target
$2,000
Raised So Far
$0
Target
$2,000
Raised So Far
$0
Team Members
My Total: $0
Team Total: $0.00